We Accept...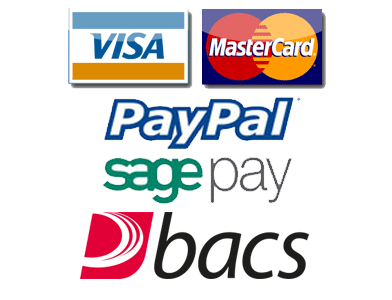 ABC Direct - About Us

ABC Direct are completely dedicated to your total satisfaction. If you have any suggestions or comments please email us at sales@abcdirect2u.co.uk
Our Contact details: ABC direct Lomax Street, Great Harwood, Blackburn, Lancashire, BB6 7DJ United Kingdom Phone: 01254 888108 Fax: 01254 608080 Email: sales [at] abcdirect2u [dot] co [dot] uk 812 0366 69 Should any of the conditions herein be in conflict with those of the buyer, these conditions shall prevail. These conditions and any contract entered into shall be subject to and construed in accordance with English law. If the customer is dealing in the capacity of a consumer then these terms and conditions shall not affect their statutory rights. The price of goods for export/ overseas orders does not include transportation costs or import or export duty or documentation charges of any kind. The payment of which is the responsibility of the recipient of the goods. Placing an order constitutes acceptance of the above terms & conditions.
Making A Purchase - Making a purchase could not be easier. Just browse our Catalog, and click on any items that you wish to buy and put them into the shopping cart. After you have finished your selection, click on "Order" and you will be asked for a few details that we need to be able to satisfy the order. We accept credit card payment. If you are shopping from North America or anywhere else, place your order and your credit card company will convert the transaction to US Dollars or your own currency. We accept Visa and Mastercard. We do not charge for any item until it is ready to ship. Backordered items are not charged until they are shipped. You may send your credit card information via phone, fax, snail mail or over the Internet. The property in the goods shall remain with Affordable Bar & Catering equipment direct ltd until such time as the invoice is paid in full, but the risk in the goods passes to the buyer on delivery. Our policy is one of continuous improvement and we reserve the right to change specifications without notice. All prices on our website and catalogue are given in good faith and are in pound sterling, Affordable Bar & Catering equipment direct ltd reserves the right to alter any price on the website or in its catalogue before you place an order. Affordable Bar & Catering equipment direct ltd reserves the right to refuse any order at its absolute discretion.
---
Shipping And Handling Carriers will make delivery to the door (or site) but not to locations within. Installation is not included unless otherwise agreed. You must make sure that you have sufficient handling facilities to receive the goods you have ordered and that any large or bulky items can fit through the required access! Any charges incurred from an unsuccessful delivery attempt by the carrier must be paid for by the customer as recipient. Deliveries required at specific times during the working day will be charged extra. Customers are advised that they should un-pack and inspect all goods upon delivery, If any shortages, damage, incorrect or faulty equipment are noted the delivery note must be signed damaged or acordingly and we must be notified within 24 hours from receipt of goods or a claim cannot be established. This does not affect your statutory rights as a consumer.
---
Delivery Schedule - We deliver your order right away. We will normally send your order to you in 1 -5 business days . International orders are generally received in under 14 days.
---
Back Orders - If your item is not in stock, we will back order for you. You will always be emailed with the option to cancel your order if you would rather not wait.
---
Tax Charges - For orders made from the UK or the European Union, 20.0% VAT is added. All other orders are VAT free and you should click the exempt button to reduce VAT to zero .
---
Credit Card Security - All credit card numbers are encrypted in the software when the order is placed using 128 bit encryption. They are only decrypted after they reach our computer. They are not held in clear text on any web site.
---
Guarantee - Where applicable, parts and labour guarantee only applies to goods supplied within the UK mainland. Some manufacturers operate a "back to base" guarantee. We will arrange for the goods to be returned to them for repair, but we cannot offer replacement or loan machines in these cases. Every effort will be made by us to handle all service calls quickly, however the manufacturer will dictate the service arrangements. If a service call is requested during the guarantee period and the fault lies with the operation or installation and not the equipment itself, all charges incurred will be payable by you, the customer. Affordable Bar & Catering equipment direct ltd is not liable for any consequential loss or special damages of any sort. If any person undertakes the supply and/or fitting of parts not specified or supplied by the manufacturer, then any guarantee for that product may be void. Wear and tear of a product is not covered by guarantee, nor is damage, misuse, or lack of maintenance (including cleaning or descaling) where applicable. Purchasers are reminded that they should satisfy themselves that the product they are ordering is suitable for their requirements and no responsibility is placed with Affordable Bar & Catering equipment direct ltd for their decision. Unless otherwise notified, the guarantee applies to parts failing within 1 year of equipment being supplied. General wear and tear is not included e.g. door seals, bulbs, lime scale damage, misuse. The warranty card must be returned to the manufacturer to ensure registration guaranteeing the full warranty period is granted. Failure to register the appliance may result in a shorter product cover than that stipulated.
---
Reaching Us - If you need to reach us, please email us on sales [at] abcdirect2u [dot] co [dot] uk, alternatively, you can call on 01254 888108 (International +44 01254 888108) or fax us on 01254 608080 or write to us at Lomax Street, Great Harwood, Blackburn, Lancashire, BB6 7DJ United Kingdom
---
Privacy Policy - ABC direct do not disclose buyers' information to third parties. Cookies are used on this shopping site to keep track of the contents of your shopping cart once you have selected an item, to store delivery addresses if the address book is used and to store your details if you select the 'Remember Me' Option.
---
Returns Policy - Our returns policy applies to goods returned unused, in their original packaging and with all instruction manuals etc. Items supplied by special order that are listed in our catalogue or website will only be accepted for return within 7 days of delivery if they are damaged or defective and unused. All refrigerated & commercial catering goods are non-returnable unless faulty or damaged upon delivery. Where applicable carriage or postal charges are not refundable in the event of a customer returning goods under our returns policy. Affordable Bar & Catering equipment direct ltd reserve the right to charge a carriage, administration or 25% surcharge if goods returned under clause 4 are found to have been used. Affordable Bar & Catering equipment direct ltd reserve the right to charge a 25% restocking charge, the customer will be advised if this applies and all refunds will be issued upon receipt of returned goods.