We Accept...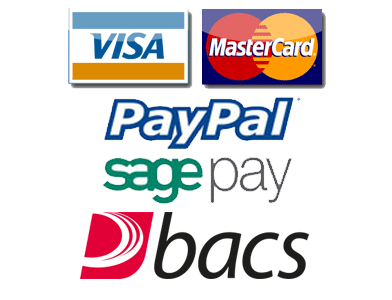 Buying bar and catering equipment: FAQs
When are you open for business?
Showroom & Office hours are open 9.00am to 5pm Monday to Friday, Our Website is open 24 hours a day, 7 days a week! Out of office times you may leave a message on our answering machine and we will get back to you at the earliest opportunity.
Is it in stock?
We work closely with manufactures to provide immediate product availability to meet market place demands. Stock levels are seasonally adjusted to ensure that we always have appropriate stock available at the right time of year.\ We pride ourselves on our careful product sourcing, which enables us to bring you the highest quality at competitive prices and we realize that when you order refrigeration and catering products that you often want it straight away.
Is it safe to enter my credit card details on the website?
Our secure checkout is encrypted (using industry standard SSL technology). This means that other users cannot look at your credit card and personal details when you use our secure checkout. You will know when a page is encrypted because a little padlock will be shown at the bottom of the web page. If you prefer, you can phone us with your order instead.
Is VAT included in your prices?
All our prices quoted exclude VAT at the current rate.
What guarantees and service do you give on the equipment?
All equipment is fully guaranteed by both the manufacture and Affordable Bar & Catering equipment direct ltd. Guarantee periods vary between 1 & 5 years depending on which product.
Can I order by any alternative means?
We are always happy to receive your order by phone or fax, alternatively you may shop and proceed to checkout, choose the payment option 'cheque with order', or 'credit card details sent seperately'. When you press the 'submit' button - a complete order form will be generated. Just print this off and fax or post it to us with your cheque or credit card details.
Is finance available to help spread the cost of new equipment?
If you are looking for an alternative way to pay Affordable Bar & Catering equipment direct ltd can offer leasing as an effective and tax efficient way to pay. The transaction needs to be over £1000 (either one large item or several smaller ones). You pay small monthly payments over a fixed term by standing order.\ Leasing and Finance is supplied via a third party supplier. The terms and conditions of sale of that third party supplier apply and are part of this contract where necessary. Terms are subject to status. Please contact our sales team on 01254 888108 for further details.
How long does it take to deliver?
Goods are dispatched Monday to Friday. (Excluding public holidays). Our sales operators will make all the arrangements for a quick delivery to you from one of our supplier's warehouses throughout the UK. Delivery by our own transport generally takes 1-5 working days while bigger items needing specialist transport may take a little longer to arrive. When we use third party carriers for our deliveries, delivery dates and times given are only best estimates and are not guaranteed.
What are your delivery charges?
All orders for UK delivery over £100 (excluding VAT) are free, below this amount there is a small charge of £6.95. Please note: these charges are for delivery to site only, unpacking, siting and installation are not included, these may be available in some cases for an additional charge.
How do you deliver?
We use our own transport and we can deliver same day around lancashire and Royal Mail or Carrier goods are sent out within 1-5 working days of receiving your order (subject to stock being available). Deliveries are generally made on the day following dispatch.

Please note: There must be someone available to sign for deliveries. If you have ordered a refrigerator or other large item we will tell you the day that the delivery will be made and we will give the courier your telephone number and ask that he rings and gives you an indication of the delivery time.
What should I do when my goods arrive and what if items are damaged in transit?
We pack your goods very carefully to prevent damage. On receipt please look for any damage to the parcel before you sign the delivery note.

Please note: It is the Purchasers responsibility to inspect the equipment at the time of taking delivery. Should equipment arrive damaged, the delivery note should be endorsed accordingly and the Company notified in writing within 3 days. Claims for damage will not be entertained on a clear signature or if signed unexamined, the Purchaser shall be deemed to have accepted the goods and shall be bound to make payment therefore on the due date.

Unpack the parcel carefully and check items received against the Delivery Note.\ Advise us by e-mail, phone or fax within 24 hours if there are shortages or breakages. We will then take the appropriate action.\ The VAT invoice and Credit Card Slip will be sent to the person placing the order.
How do you decide which manufacturer's products to offer?
At Affordable Bar & Catering equipment direct ltd we are constantly looking at different manufacturers products and considering them for inclusion in our range. We may not always offer the cheapest available but by choosing Affordable Bar & Catering equipment direct ltd as your equipment supplier you can be sure that you are getting the best quality and value for money. It is not always possible to show every item available within our range. If you have a particular requirement and need further guidance please contact our sales team on 01254 888108 and we'll try our best to help.
What if I have problems ordering over the internet?
Your business is important to us, we want you to continue shopping with us so let us know of any problems and we will do what we can to ensure your internet shopping with ABC direct is hassle free. Phone or fax during office hours or email us here if you experience any difficulties.